The Association of Professional Party Organisers and Event Managers of Nigeria (APPOEMN) recently held a press conference at Luxury Events Place, Abuja, in preparation for the fourth edition of her annual event; The Event Industry Conference (TEIC), scheduled to hold from October 21st through 23rd, 2021 in Lagos.
TEIC 4.0 with the theme: 'A New Dawn' is a 3-day event comprising live events in Lagos and virtual events to be held in Abuja and Lagos.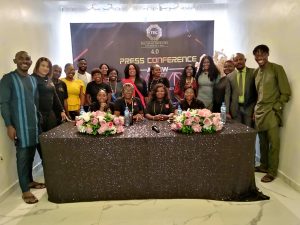 Speaking with the media, Adefunke Kuyoro, President, APPOEMN, revealed that the 3-day event will feature masterclasses, event emergency trainings and a dinner and awards night.
"We are shall also be giving awards to outstanding stakeholders in these categories: diversification, support, innovation and entrepreneurship," she said.
Also speaking, Gbemisola Ope, Chairperson, Planning Committee TEIC and immediate past President, APPOEMN, stated that the event is targeted at event professionals and aspiring event professionals.
"TEIC 4.0 will equip participants irrespective of the number of years they have been in the event business with the necessary skills needed to navigate the post lockdown event space.
"If other sectors are driven by professionals, the event industry should not be left out because it involves the safety and comfort of people, and that is why industry players should be well trained.
Kuyoro constituted the first chapter of the association making the Abuja APPOEMN Chapter its first chapter.
Olufunbi Akinsosoye, Vice President APPOEMN; Abosede Abisagboola, PR Director APPOEMN; Mrs. Cheryl I., CEO Cher Luxury Decor & Gifts ltd; Enoabasi Odiagah, CEO Selcah Events and Mr. Fix It were among the event professionals present at the press conference.