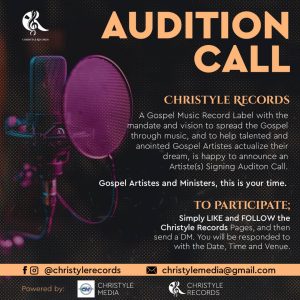 Christyle Records, a gospel music record label is calling on artists to participate in it's artist signing audition call.
In a statement by the Chief Talent Manager, Mr Chris Daniel, he assured participants of a fair audition process stating that "the goal of the audition call is to give prospective artists across Nigeria a platform to be heard."
"Participants should be rest assured that they would be getting the most transparent and fair audition process.
"Also selected artists who are signed will receive top notch training, mentoring, productions, promotion and marketing.
"We are all about creating global brands out of the acts we choose to work with. So we are after discovering and promoting the best Nigerian talents in gospel music."
To participate, artists are to follow the Christyle Records social media pages and send a DM to get details of date, time and venue of audition.
The newly established gospel record label under the umbrella of Christyle Media has it's corporate headquarters in Abuja Nigeria and aims to spread the gospel through music, and to help talented and anointed gospel artists actualise their dreams.
Follow Christyle Records:
Instagram: @christylerecords
Facebook: Christyle Records